Introduction
We recognise that this is a challenging time for everyone and we understand that you will working on your PC even more at the moment. You may need specialist technology to help with your studies and we've got a range of products listed below to support you.
How To Contact Us
If you have any questions about the products you can contact us between Monday-Friday 9am-5pm. We also offer the option of appointments to provide further 1-2-1 support when using the software, these will be conducted over the telephone or via a video call.
Telephone
Call 01482 462222 and one of our advisors will be ready to assist you.
Enquiry & Live Chat
Visit the myHull Portal to raise an enquiry or speak directly to one of our advisors through Live Chat.
Audio Notetaker
We also currently have 1000 loan licences of Audio Notetaker, which is a more fully functional program for Windows and MacOS.
Click here if you would like to request a loan of Audio Notetaker.
Sonocent Link
Finally, all students already had access to Sonocent Link, the mobile version of Audio Notetaker for Android and iOS.
How does it work?
You can record on any smartphone or tablet. Chunks of speech are automatically recongised and you can add your own notes, tag different sections or split different sections up, all during recording.
Once you have made a recording you can review and edit it any time you like or save it to box
How will it help you?
Please see this short video that explains how the Sonocent Link app and Audio Notetaker can help you in you studies.
Immersive Reader (New)
Immersive Reader is now active within all Canvas pages which increases the accessibility of learning content for all our students here at Hull. Immersive Reader can help with reading passages aloud, translation of passages of text into different languages and can offer decoding solutions for any students who struggle with word meaning. To enable Immersive Reader on a Canvas Page just click the button as shown below.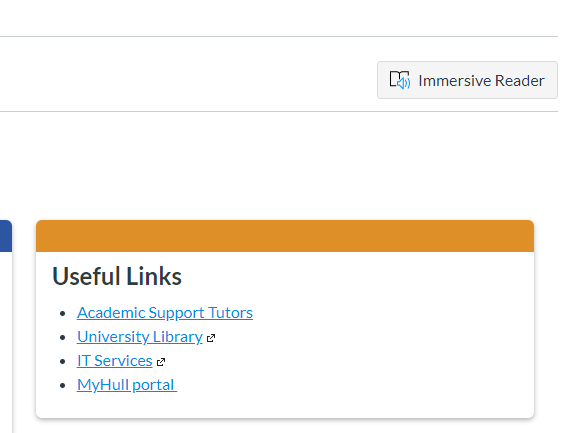 Read & Write Gold/Software
Dark Reader
If you are particularly sensitive to light or contrast when reading screens, 'Dark Reader' is a tool to take care of your eyes, uses dark theme for night and daily browsing: Dark Reader
Just Read
Just Read enables you to read text in a customizable, simplified format, removing distractions. This free software is useful for all readers! Just Read Video
Xmind
XMind, a full-featured mind mapping and brainstorming tool, designed to generate ideas, inspire creativity, brings productivity.