Introduction
As you are aware the University is currently delivering teaching remotely and the same applies to your student support services.
We understand how important these services are to you and Student Services remain committed to providing you with the support you need to succeed in your studies.
The services available to students will now be available via phone, raising an enquiry, live chat and video call.
We will no longer be available face to face and we are not running any services from the Central Hub (1st Floor, Student Central) at this time.
As this is an evolving situation we will keep you notified of any changes to our services on this webpage and via social media.
Please follow us on Instagram and Twitter @hulluniservices for regular updates.
https://twitter.com/HullUniServices
https://instagram.com/hulluniservices
Thank you for your understanding during this unique situation - we are doing our best to continue to deliver our services and we ask for your patience during this time​.
You can find out more about the University changes on the University of Hull website. Please do continue to follow the latest expert advice from the National Health Service and Public Health England.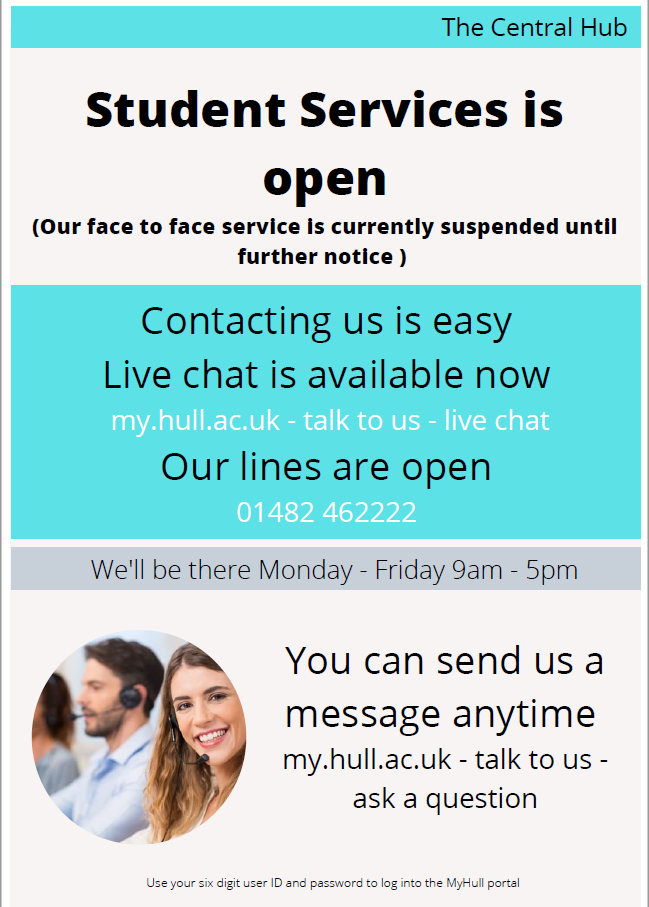 How To Contact Us
The services below are available from Monday-Friday 9am-5pm.
Telephone
Call 01482 462222 and one of our advisors will be ready to assist you.
Enquiry & Live Chat
Visit myHull Portal to raise an enquiry or speak directly to one of our advisors through Live Chat.
Guidance on how you use access the myHull Portal can be found below.
Appointments
You can arrange appointments by contacting us through one of the above methods. All appointments will be conducted over the telephone or via a video call.
You will be provided with an appointment slot, however please be available 30 minutes either side of this time. Please ensure that you are somewhere quiet and confidential to take the call and please do not use hands free. The call may come from a withheld number.
If the call is not answered, you will lose your appointment slot and be asked to rearrange, so please ensure your phone is switched on and near you.
Accessing myHull Portal
1. Enter your 6 digit user identification and password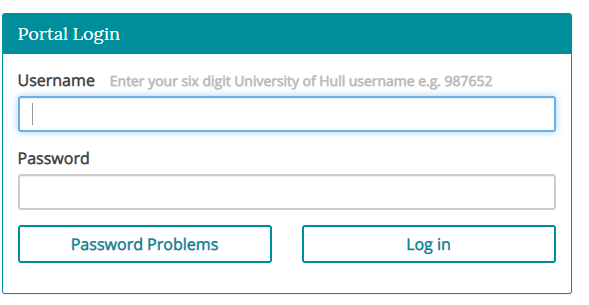 2. Select 'Talk To Us' to raise an enquiry or access live chat

3. You have the following options available to you:
Live Chat* – Select this option if you would like to speak to one of our experienced advisors though Live Chat.
Ask a question* – Select this option if you would like to raise an enquiry with your Faculty or Student Services.
My messages – Select this option if you would like to review your existing and previous enquires.
Face to Face appointments – Select this option if you would like to view any forthcoming appointments. You also have the option to cancel your appointments here.
*use these methods to arrange an appointment with us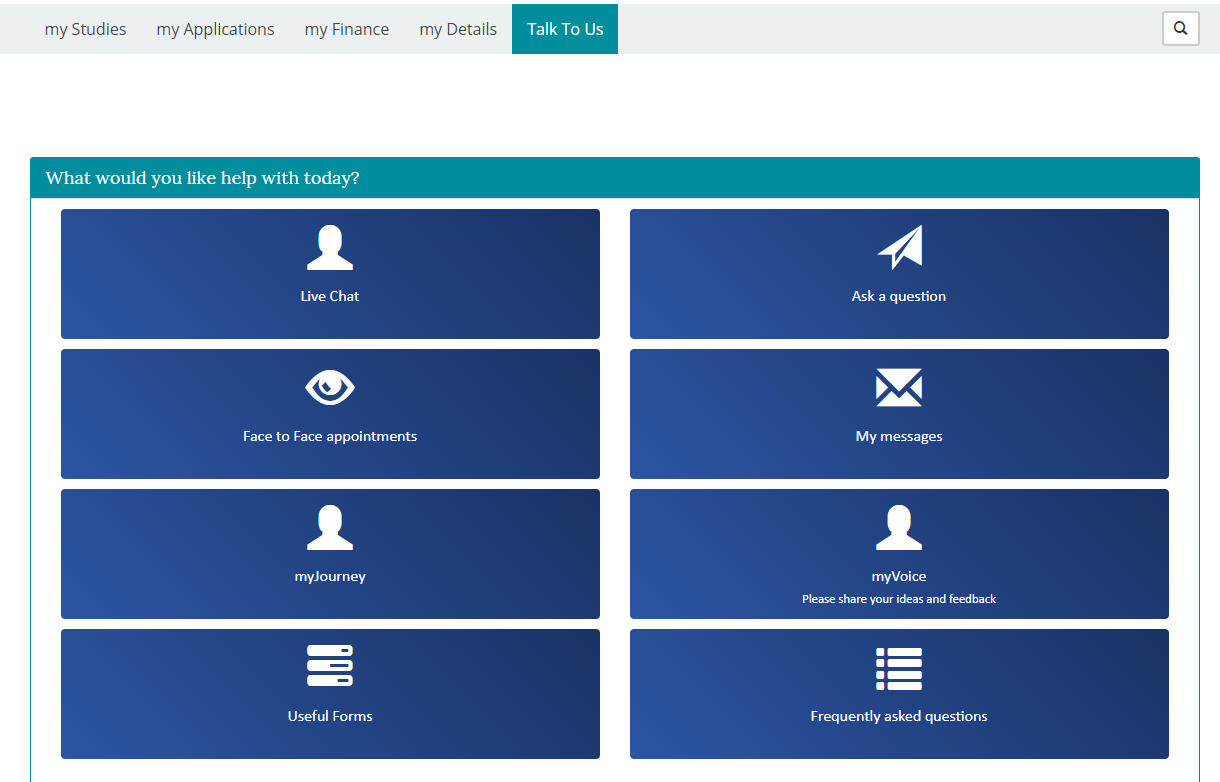 4. If you select 'Ask a question' you will be presented with the following options, select the area you wish to raise your enquiry with.

5. If you select 'Live Chat' you will be presented with the following options. Enter your name and university email address and select 'Chat Now'.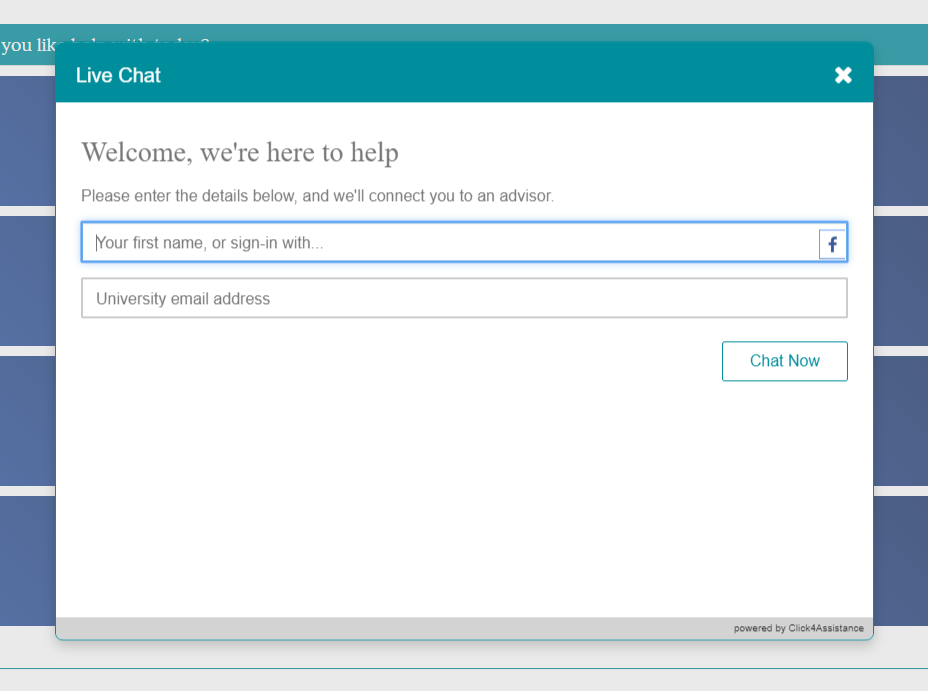 Services Available
Mental Health Support are here to help with any emotional wellbeing and mental health concerns, and support around significant life events. For more information about the support available, how you can access some useful resources, and advice on dealing with the current situation please select here.
The Student Life team will be offering support and advice relating to academic issues, including assessment and engagement. They can also help with any worries & concerns re university accommodation (for external private landlords, please see the Advice Centre, or your landlord) and can support you, if you're feeling worried about the current situation and the impact of transitioning to studying remotley .
Learning Support helps students with specific learning differences, such as dyslexia and dyspraxia
Disability Inclusion support students with a disability and physical health concerns, both temporary and permanent
Our Financial Support team provide guidance to students who may find themselves in financial hardship. If you are unsure if you are receiving the correct entitlement of student funding, or are experiencing problems or delays with your application, please get in touch to see if we can help in any way.
Our Immigration and Visa Compliance team support study-related immigration and Tier 4 sponsorship queries.
Careers and Employability support students to decide what to do next after University and help you to develop and fulfil your career potential. For more information about the support available please select here.
We have specialist staff available to support you with using our Assistive Technology equipment.
Urgent/24 Hour Support
If you require urgent support around any of the issues below, please utilise your local emergency and NHS contacts. We are asking you to do this, as our priority is to make sure that you are safe and receive the most appropriate support quickly.
If you feel actively suicidal or unable to maintain your safety, please contact emergency services or attend A&E
- If you live in Hull or the East Riding and have an urgent mental health need, please contact NHS – Mental Health Response Team 01482 301701, in the first instance. For those not currently residing in the Hull/East Riding area, your GP can help direct you to your local equivalent service
- For any urgent support with regards to sexual violence, please contact the police (999 in an emergency or 101, if there is no immediate danger) and Blue Door can also help
- For urgent support with regards to domestic abuse, please contact the police and Women's Aid
- If you have been a victim of crime please contact the police
- There are some additonal specialist services, such as samaritans and shout who you can reach out to 24 hours a day, 7 days a week which can be found here.
Big White Wall
The Big White Wall is a specialist service where you can access trained counsellors and support from a 24/7 online community. More information about Big White Wall can be found here.
Hull Sport
If you would like to contact anyone from Hull Sport please call 01482 466234 or email sport@hull.ac.uk